Brain Noodling Card Decks
"Brain Noodling Card Decks"

A ground-breaking set of tools to develop insights. These decks are filled with strategies, practices and tips to equip and stimulate individuals, teams, and groups in a research setting to solve problems that demand new ways of thinking.
Price:
$45.00
Availability:
In Stock
Item #:
3273
Average Rating:
Not Rated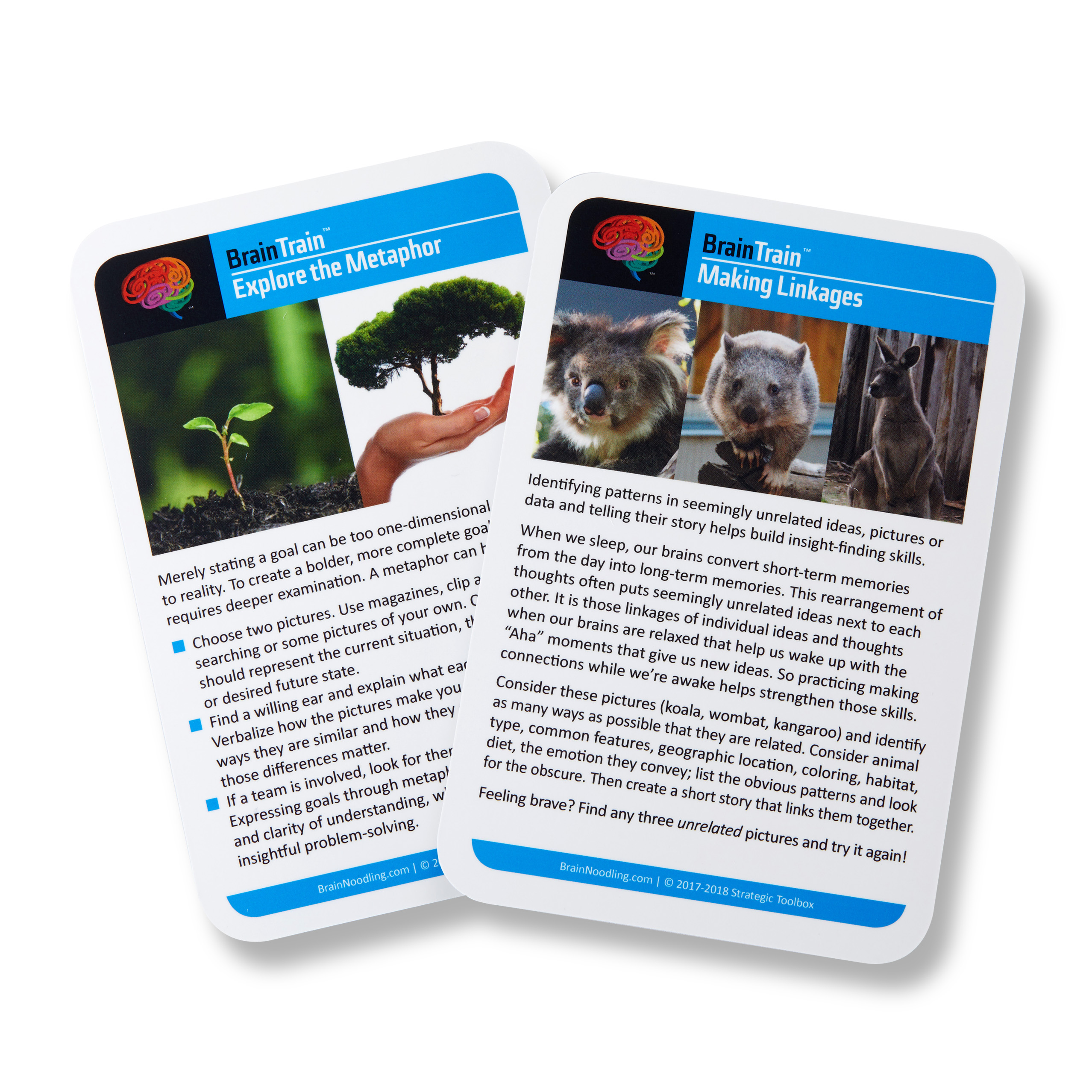 This BrainNooodling Deck is a starter set. It includes samples of three distinctly different approaches to delivering a blast of creativity.
Set includes:
16 BLUE BrainTrain cards to guide you through exercises that help the brain make leaps in perspective, such as: Ladders of Abstaction; Connecting the Dots; Restructuring the Question; Rolling the Dice and others. Use them to challenge assumptions, relax constraints, and combine elements in new ways.
NOTE: Blue cards are only available in this BrainNoodling sample pack.
12 GREEN BrainBodies cards that introduces thinking from some of the "best minds" in history. What advice would these artists, thought leaders, entertainers, and activists share if they were on your Board of Directors?
Order the complete BrainBodies set (40 additional Green cards): click here
12 RED BrainFlex cards that will help you bring new perspectives to solving a problem or your search for new ideas. Considering the language, skills and situations of different worlds opens new possibilities for insightful connections.
Order the complete BrainFlex set (40 additional Red cards): click here
Write Review
Your Name:
Your Review:
Note:

HTML is not translated!
Rating:
Bad
Good
Enter the code in the box below: